The Rev. Trent Moore
Rector
Fr. Trent hails from the great state of Texas and began serving as Rector of St. Stephen's in September of 2022. He came to us from Church of Our Saviour in Jacksonville, Florida where he served as Associate Rector. Before that he served at St. John's Episcopal Church in Jackson Hole, Wyoming where he was youth pastor and ordained to both the Diaconate and the Priesthood. Prior to his ordination, he also served as a youth pastor in the Diocese of Western North Carolina, as well as in the United Methodist Church and Young Life.
Married to his lovely wife Ashley, they have two young children Jackson and Gabriel, and their dog Emma.
Fr. Trent earned his undergraduate degree from Texas Tech University in Lubbock, Texas where his emphasis of studies were Communications, Mass Communications, and Adventure Activity. He received his Masters of Mission and Evangelism at Trinity Episcopal School for Ministry, and his Masters of Divinity and Anglican Studies at Iliff School of Theology.
Fr. Trent enjoys fishing, sports (especially football), music, cinema, traveling, date nights with his wife, and having fun with his boys.
tmoore@ststephensculpeper.net
540-825-8786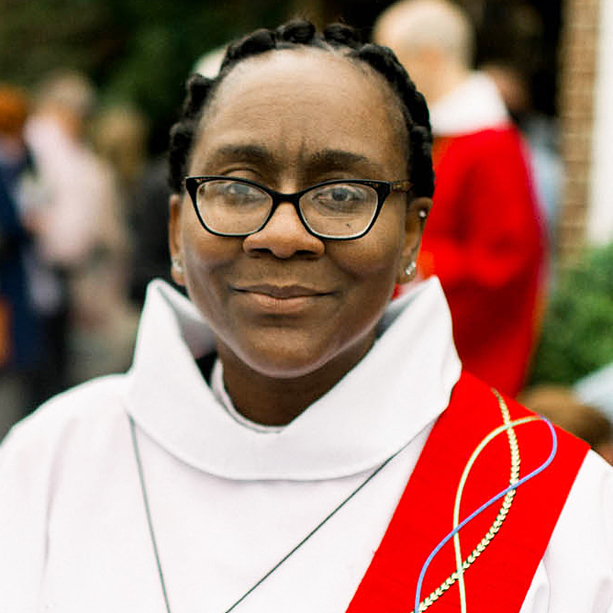 The Rev. Deacon Emmetri Beane
Deacon
The Rev. Deacon Emmetri Monica Beane (Deacon Em) was named Deacon of St. Stephen's in March 2019. In addition to performing all the liturgical duties of a Deacon, she has a full-time job and is an active part of Piedmont Dispute Resolution Center, the Foothills Housing Network, and the local Re-entry Council. Ordained in 2013, Dea. Emmetri has a BA from UVA, MS and JD from George Mason. She is an active member of the Virginia Bar. Dea. Emmetri is the mother of two adult daughters.
ebeane@ststephensculpeper.net
540-272-3434